OPM Collaboration
The Wellcome Centre for Human Neuroimaging has been awarded a Research Enrichment grant by Wellcome to co-deliver a public engagement project with young people with epilepsy. The project, Co-producing elements of the OP-MEG scanning process with young people with epilepsy, will run throughout 2020.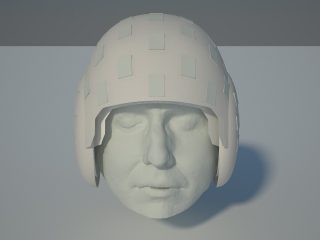 The young people involved will play a crucial role in the development of an exciting new technology and area of research within the Centre. One of our research groups, led by Professor Gareth Barnes, is developing a wearable brain scanning technology, using technology called Optically Pumped Magnetoencephalography (OP-MEG). Our aim is to include the voices of young people with epilepsy in the development process so they can shape this new technology. With their involvement, we aim to increase engagement during the scanning process. Longer scans with more engaged, comfortable individuals, translate directly into better quality scans and therefore more accurate results and better health outcomes for these individuals.
Magnetoencephalography (MEG) is a technique used to map brain activity. It works by measuring the magnetic field produced when neurons in the brain signal between one another. MEG scans are especially useful in epilepsy, because they can pinpoint areas of the brain causing seizures without an invasive procedure. However, MEG systems are rare because of their size and expense. They also require people being scanned to stay very still, meaning they are often unsuitable for some people including children.
Optically Pumped Magnetoencephalography (OP-MEG) removes the need for those being scanned to keep still. It will allow us to not only identify seizure sites non-invasively, but also perform essential tasks even whilst the person is moving allowing clinicians and researchers to gather new types of information from the active brain to better understand it. This makes OP-MEG an extremely exciting new development in this field and will enable more young people and those with complex needs to have scans. Increasing the number of young people with epilepsy who can be scanned means that more treatment options (including surgery) will be available for more individuals, thereby increasing the quality of life for many young people.
Involving young people with epilepsy in this project will be essential in order to successfully develop this technology. For many young people with epilepsy, the OP-MEG procedure can be daunting and requires the young person to remain perfectly still, in a stable mood and relaxed during the scan. Therefore, in order to maximise the success of scanning, this project aims to co-produce three elements of the process with young people with epilepsy:
Fun, engaging and comfortable helmets to wear whilst being scanned
Age appropriate, non-clinical interiors of rooms where scanning will take place
Mood balancing and enjoyable games and tasks to perform before and after being scanned
We will co-produce all elements by conducting a series of workshops with young people with epilepsy. Their feedback will directly feed into the design of each element. Throughout this project, we will also be closely collaborating with our charity partner, Young Epilepsy and Great Ormond St Hospital (GOSH).
The lead researcher behind the project, Professor Gareth Barnes, Principal Investigator:
"This work is potentially transformative for young people suffering from epilepsy; their input at these early stages will be essential for the success of the project."
The project team includes:
Tim Tierney, Stephanie Mellor, George O'Neill, Joanne Thomas and Cassie Hugill from the Wellcome Centre for Human Neuroimaging
Mark Lim from the design and model making company Chalk Studios Ltd
Hefin Jones, Designer
Rosemarie Pardington and Amy Muggeridge of Young Epilepsy.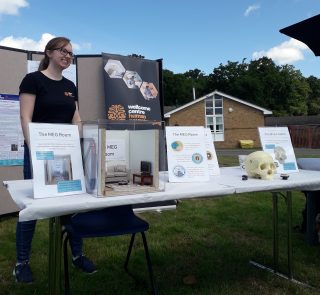 Stephanie Mellor at the Young Epilepsy Fete June 2019