Public Engagement Awards
Recognising and rewarding excellence in public engagement
These awards celebrate the Centre's public engagement activity over the past year and name those who have been especially instrumental in their efforts.
The aim of this initiative is to support a culture of public engagement that is embedded into practice and valued by staff; giving support, encouragement and recognition of staff achievement.
All researchers and support staff within the Centre are eligible for the awards, to reflect that public engagement can be contributed to by everyone.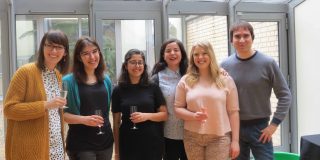 ---
Find out more about our award winners here:
---
Prizes
The prizes recognise individual growth, individual achievement and collaborative effort and are as follows:
Rising Star Award
A staff member who has shown outstanding promise and attitude towards public engagement.
This award is aimed at recognising those who are increasingly embracing public engagement within their practice.
Their activity might be nascent or developing, but their enthusiasm and understanding show great future potential.
This award congratulates individual effort and progress and incentivises continuing work on public engagement projects.
Excellence in Engagement
A staff member who has played a key role in engagement work, including demonstrating a strong understanding of public engagement in research.
This award recognises those who show, thorough understanding and appreciation of public engagement, and apply this in ways which feed into and progress their work.
Their activity will be thoroughly considered and planned with effective evaluation that demonstrates impact. This award congratulates individual effort and achievement and encourages awardees to spread their understanding and application of public engagement among their colleagues, team and wider community.
Outstanding Engagement Project
An entire engagement project which aligns with the vision and aims of the Centre's PE strategy.
This award recognises a research group or collection of individuals who have delivered, or are delivering, an outstanding engagement project.
The activity of the project demonstrates two-way engagement with the Centre's target audiences, and the impact of the project is clearly evaluated and corresponds to the vision and aims of the Public Engagement Strategy.
This award recognises the importance of collaboration in realising public engagement projects and incentivises sharing and teamwork to develop practice.
The awardees are decided by the Public Engagement Steering Committee.
---