5. Miscellaneous functions and utilities
This section describes miscellaneous functions and utilities that are included with SPM.

5.1 Display: Interactive orthogonal display of selected image.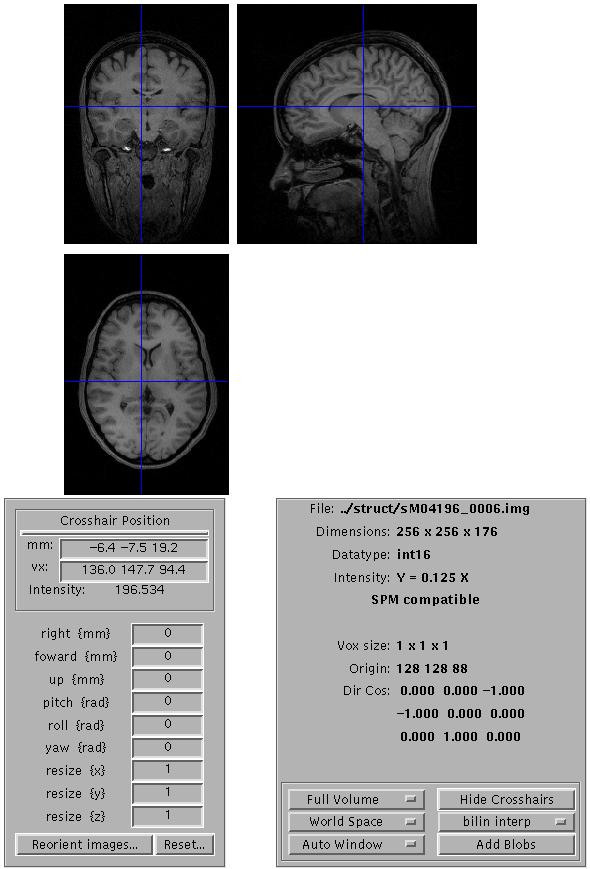 Display utilities:
Bottom left panel:
Image intensity at crosshair position. Translation, rotation and scaling parameters can be entered to reorient images. Image is displayed with new orientation values.

Reorient images? - overwrites the image .mat file with the new transformation as specified by the orientation values entered above.

Reset - overwrites the .mat file to contain an estimate of the space of the image.
Bottom right panel: contains information about image, its size and space.
Full volume/160x160x160mm/?etc: displays full image volume or a selected sub-volume.

World Space / Voxel Space: World space - displays image in the space of its .mat file. Voxel space - displays image in voxel space, i.e. without using .mat file.

AutoWindow / Manual Window: Auto Window - scales image between minimum and maximum values. Manual Window - manually select values to scale image intensity values.

Hide Crosshairs - toggles crosshair display on and off.

NN interp / bilinear interp / sinc interp - interpolation used for displayed image.

Add/Remove blobs - can add up to 6 sets of blobs from previously executed statistics on displayed image.
5.2
Check Reg

(istration)

This allows >1 and <15 images to be displayed at the same time, in the space of the .mat file of the first image selected. This utility is VERY useful for checking coregistration results.
5.3 Render?

Options:
Display - this displays up to 3 sets of activations on a volume rendered brain. There is an option between new style and old style renderings. Examples of these are shown in the figure below (left =new, right=old). For normalised activations it is possible to select one of the canonical rendered brains. Alternatively using the Xtract Brain option (below) it is possible to create ones own rendered brain for subject specific renderings.
New style overlay Old style overlay
Xtract Brain

- this requires that a segmentation has been performed and that grey and white matter segmented images are available (see

segmentation

,

2.6

). Options are:

Save Extracted Brain - extracted brain is saved as a binary mask image (i.e. 1s identifying the brain and 0s elsewhere) with the name brain_filename.img, hdr, .mat. Use display to visualise results (as in figure below).

Save Rendering - rendered brain is displayed (as in figure below) and results are saved as render_filename.mat. This file can be selected to display blobs on a rendered surface (e.g. see x).

Save Extracted Surface - brain surface is saved as surf_filename.mat. The resulting brain surface can be displayed (as in figure below) and rotated. Type help spm_xbrain at the matlab prompt for code to manipulate the surface.
Extracted brain Rendered brain Brain surface
5.4 fMRI/PET

Option to toggle between the PET and the fMRI mode.
5.5. Toolboxes

This option
provides access to SPM toolboxes installed in the toolbox subdirectory of the SPM installation directory. A sub-directory must exist under the SPM toolbox directory named after the toolbox. There must be an M-file in this sub-directory whose name ends with the toolbox directory name. E.g. a toolbox for Deformations would contain an M-file called 'spm_Deformations.m' in a subdirectory called Deformations under the SPM toolbox directory.
5.6 Means...

Options:
Mean: creates a mean image from selected images and writes result to mean.img in current working directory. Selected images must have same dimensions, voxel sizes and orientations.

AdjMean: creates a mean image from selected images after adjusting for conditions and confounds using the general linear model. The user selects a design, scaling/normalisation and adjustment options in a similar way to doing SPM-PET (section 3.1). The adjusted means created with this step were previously used for PET RFX analyses. See section x for updated RFX analysis.

adjMean/fMRI - creates a mean image from selected images after adjusting for conditions and confounds using the general linear model. The user specifies the design, the required global normalisation and high-pass filtering. An adjusted mean is created for each condition specified in a single session fMRI epoch-related study. The adjusted means created with this step were previously used for fMRI RFX analyses. See section x for updated RFX analysis.
5.7 ImCalc

ImCalc
allows basic algebraic calculations to be performed on selected images and the result written as an image. The user must specify the expression to be evaluated in standard matlab form with the selected images referred to in order as i1, i2, i3 ?etc. Logical, relational and trigonometric operators can be used as well as basic arithmetic operators. For information on using these operators in matlab, type '

help arith'

, '

help relop'

, '

help slash'

and

'help elfun'

at the matlab prompt. The user must enter a name for the resulting output image. This will be written to the current working directory.




5.8 HDR edit

HDR edit allows an image header to be edited and applied to selected images. It also allows the creation of image headers. Editing options are: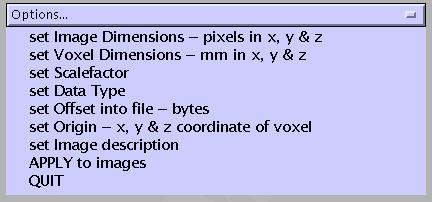 Set options for editing, then select APPLY to images. A new header file will be written for selected images. This utility is especially useful for adjusting the origin of one or more images to provide a better starting point for coregistration with an image where the origin is very different.
5.9 Help

This provides a graphical user interface for the help files associated with all buttons in the SPM menu window.
5.10 Utils?

Options:
CD - change present working directory

PWD - report present working directory

delete - file deletion utility

Show SPM - pops up figures associated with this SPM session. This is very useful when running >1 SPM at a time

Run mFile - run selected Matlab M-file in workspace

SPMweb - opens http://www.fil.ion.ucl.ac.uk/spm in web browser
5.11 Defaults

This option
allows current defaults to be edited. New default settings are reset to SPM defaults when a new SPM session is started.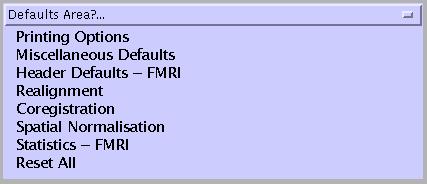 Printing Options - allows a variety of different printing options to be selected.
Miscellaneous Defaults:
Log to file - allows user to specify a file in which to log all SPM-user dialogue.

Command Line Input - allows user to select GUI or command line input mode.

Grid Value - allows user to select intensity for any overlaid grids (e.g. on the MIPS display, slices overlay). The grid is brightest for a value of 1 and disappears for a value of 0.
Header Defaults -PET/FMRI - these values are used as the defaults for the HDR edit utility.
The defaults for Realignment, Coregistration, Spatial Normalisation, Statistics -PET/ FMRI were discussed in each of the relevant sections.
Reset All - this reloads the SPM startup defaults from spm_defaults.m.
5.12 Quit

This exits SPM and clears the workspace.