Blog: Dementia Action Week - Q&A with Dr. Jonathan Huntley
Over 80,000 people in the UK have severe dementia. At UCL, Dr. Jonathan Huntley is pioneering a new study to explore how people with severe dementia experience the world around them, and how awareness changes as dementia progresses. Alongside, he is working on a project to integrate these ideas into a dramatic film script, which will ultimately drive future research into self-awareness in dementia.
For Dementia Action Week 2021, we spoke to Dr. Huntley about these two projects.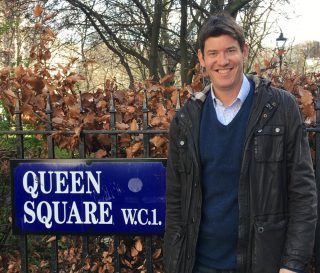 What motivated you to study awareness in severe dementia?  
There are millions of people living with dementia worldwide. As dementia progresses, people often lose the ability to recognise loved ones or communicate what they are experiencing.  If we don't know how aware people with severe dementia are of themselves and their surroundings it can be very hard to know how to improve their quality of life and wellbeing.
Therefore, as an old-age psychiatrist I am motivated primarily by the need to better understand the lived experience and improve care for people with dementia.  In addition, understanding how the neurodegeneration that occurs in dementia affects awareness may help us understand more about how the brain generates consciousness and how this may change with disease.
What do we already know about what people with dementia are aware of and can understand? 
By definition, dementia leads to progressive decline in memory, language and other cognitive functions that impair understanding and communication.  We know that from the early stages of dementia, people with dementia may lose awareness of their memory problems, however when people lose the ability to clearly communicate it can be challenging to know what they are aware of.  We know that family members and caregivers often anecdotally report that people with advanced dementia may have 'good days and bad days', or have moments when they may seem more aware of who and where they are, or respond to certain stimuli like music that offers tantalising glimpses of preserved awareness and connection.  However, there is very little research on awareness in advanced dementia and whether this can be improved with specific interventions or care.
Why do you think awareness in dementia has traditionally been neglected in favour of centring memory loss?  
Awareness is difficult to assess in people who are unable to tell you about their experiences.  Until recently, clinicians and caregivers could only make assumptions about the extent of awareness of people with advanced dementia based on observations of their behaviour.
However, advances in neuroscience have now made it possible to measure awareness in groups of people who are unable to communicate their experiences, such as infants and patients with profound brain damage who are in coma. This work involves the use of techniques such as MRI and EEG to assess awareness and measure brain responses to pictures of faces or music.  Our study is now translating these advances to understand awareness in severe dementia.
Tell me about the three different groups of participants in your study, and what you hope to learn from each one?
The study includes a group of people with severe Alzheimer's disease, a group of people with mild-moderate Alzheimer's disease and a group of healthy control participants.  By including these 3 groups we hope to assess how awareness changes as the disease progresses, and whether brain markers of awareness differ in severe Alzheimer's disease in comparison to the other groups.
You plan to use EEG (electroencephalogram – a test that detects electrical activity in the brain) technology to measure awareness in your participants. Can you explain how electrical activity in the brain can give us an indication of the level of conscious awareness?
The last 20 years have led to exciting developments in understanding how our brains give rise to our conscious experiences. This fascinating question has led to several theories of consciousness and different techniques have been used to try and identify the 'neural correlates of consciousness'.
By measuring electrical activity in the brain, EEG can allow us to compare electrical activity during different states of consciousness, and also how activity changes in response to various stimuli, such as seeing faces. As we now have some reliable markers of conscious awareness using EEG, for example knowing the signature of electrical activity when we are consciously aware of seeing a face, we can use these markers to indicate conscious awareness in people with severe dementia.
How will Kronos (The Dementia Film Project) feed into your research?
The Dementia Film Project is an exciting opportunity to hear and learn from the experiences of people with dementia and their caregivers.  The aim is to co-produce a fictional screenplay with people with dementia and caregivers about the lived experience of having dementia, and how this has affected their awareness of themselves and the world around them. These deeper insights complement the research and will feed into future work exploring the ways that awareness is impacted by dementia.
Why is film the best medium to explore this topic?  
We want the lived experiences of people with dementia to be accurately portrayed to help people understand what it is like for people with dementia and their families. Film is a very powerful way of conveying and sharing experiences, in order to build empathy and understanding. The close involvement of people with dementia, their families and our charity collaborators from the Alzheimer's Society, Alzheimer's Research UK, National Brain Appeal and World Health Organisation are all crucial to ensuring the film successfully and sensitively achieves these aims.
How do you hope the film project and the findings of your study might benefit people with dementia and their carers?  
We hope the study will lead to improved understanding of how Alzheimer's disease affects awareness, and specifically what people at the more severe stages of the disease are able to experience.  By improving understanding of awareness in dementia we hope to facilitate more meaningful interactions between people with dementia and their carers, and target interventions (such as music therapy and person-centred care) to improve quality of life and awareness in people with dementia.
We hope the film will be a way to allow the experiences of people with dementia and their carers to be seen and heard, to increase empathy and reduce stigma.
What about the wider impacts on health and social care, and for scientists working in dementia? 
This study will enable, for the first time, an objective assessment of the baseline awareness of people with severe dementia, and also what difference external stimuli and interventions (such as music) can make to a person's brain activity and awareness.
Previous work by our collaborators has shown that training professional caregivers to better understand and assess the awareness of people with severe dementia can significantly improve the quality of care they provide. The study will therefore help Health and Social Care Services and the thousands of privately-run care homes to improve training of staff and improve quality of life for those they care for.
It will also enable clinicians and scientists to identify which interventions may make a difference to people with severe dementia, and which do not.
And finally, what are you most excited about for these projects?  
I am excited about improving understanding of the conscious experience of people with advanced dementia, to shed some light on to their lived experience and hopefully making a meaningful difference to their care.