Dr Tobias Hauser awarded FENS-Kavli Scholarship for scientific excellence, originality, and leadership in neuroscience
The network of Scholars aims to support the development of European neuroscience through scientific exchange, advocacy, and outreach.
Dr Tobias Hauser, Principal Investigator of the Developmental Computational Psychiatry team at the Wellcome Centre for Human Neuroimaging, has been appointed as a 2021 FENS-Kavli Scholar.
The FENS-Kavli Network of Excellence (FKNE) is a diverse group of early career, independent neuroscience investigators based throughout Europe. Scholars are selected for two two-year terms, after which they become members of the growing FKNE Alumni network. Dr Hauser joins as one of 15 new recruits for 2021. They will work alongside the 2018 cohort to form an active community of 30 scholars representing 13 different European countries.
The FKNE is a self-organised, multidisciplinary network, which aims to improve neuroscience research within Europe and beyond. As well as supporting excellence in scientific research, the network also champions advocacy and outreach.
FKNE scholars meet several times each year to discuss a range of topics across neuroscience, as well as challenges and opportunities facing European neuroscientists and the role of neuroscience in society. Scholars then work to put their ideas into action through activities such as writing opinion articles, producing white paper recommendations to key European stakeholders, public engagement, and through the delivery of prizes awarded to outstanding individual scientists.
Dr Hauser said:
"I am deeply honoured for having been elected as a Scholar of the FENS-Kavli Network of Excellence. I am really excited to actively contribute and promote neuroscience research in Europe and to foster close collaborations between all European countries. Neuroscience research is critical for understanding and treating neurological and psychiatric disorders, and being a FKNE scholar allows me to raise awareness and promote the neuroscience of neuropsychiatric disorders."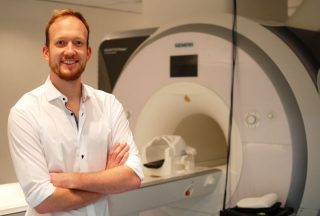 The 2021 scholars will play an important role in shaping European neuroscience during the ongoing COVID-19 pandemic. As well as impacting how research is conducted and disseminated, the pandemic has shed light on the importance of neuroscience for the future of brain health. In addition, the FKNE provides a platform to address challenges relating to maintaining investment in blue skies research, mentoring trainee researchers and students, and empowering early career group leaders.
Professor Jean-Antoine Girault, President of FENS, said:
"The FENS-Kavli Network of Excellence is running since 2014 thanks to the generous support of the Kavli Foundation and in collaboration with FENS. This group of exceptional junior and mid-career neuroscientists from across Europe plays a key role to shape the future of neuroscience as the voice of the next-generation scientists. We are proud of what they accomplished. I am also glad that their vision includes not only the development of excellent science and basic research, the key to progress, but also concerns for the impact of the current crisis and the place of science in the society. I congratulate the new scholars and I am convinced they will enthusiastically be at the front place in research, outreach and advocacy."
You can read more about the newly appointed FKNE Scholars at the FENS-Kavli Scholars webpage here.