Dr Tobias Hauser wins prestigious Philip Leverhulme Prize
Dr Tobias Hauser has been awarded a prestigious Philip Leverhulme Prize in Psychology, in recognition of the international impact and exceptionally promising potential of his work on decision-making.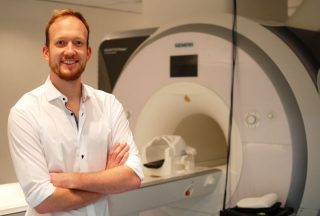 Dr Hauser's research investigates how humans make decisions and why we are so consistently inconsistent in doing so. Even when facing the exact same options repeatedly, we often make different choices.
As Principal Investigator of the Centre's Developmental Computational Psychiatry team, Dr Hauser's work combines computational modelling, multimodal neuroimaging and pharmacological manipulations to study the brain mechanisms that drive these inconsistencies, how they change during development, and how they are impaired in psychiatric disorders.
Recently, Dr Hauser achieved a major breakthrough by demonstrating that decision-making inconsistencies arise from spontaneous fluctuations of the brain's resting activity.
Philip Leverhulme Prizes have been awarded annually since 2001 in commemoration of the contribution to the work of the Leverhulme Trust made by Philip Leverhulme, the Third Viscount Leverhulme and grandson of William Hesketh Lever, the founder of the Trust.
Each year, up to 30 UK university researchers from different academic disciplines are selected to receive a Philip Leverhulme Prize. The disciplines change annually and in 2021, prizes were awarded to researchers in Classics, Earth Sciences, Physics, Politics and International Relations, Psychology, and Visual and Performing Arts.
The prize is worth £100,000 and spent on any activities related to the advancement of the winner's research, spread over a two- or three-year period.
Dr Hauser intends to use the award to fund a novel research project investigating what causes spontaneous brain fluctuations. He will develop new methods and approaches to record neurotransmitters inside the brain, and thereby probe their impact on behaviour.
Dr Hauser said:
"I am thrilled to receive the very prestigious Philip Leverhulme Prize. It is a huge honour and I am very excited that this prize will allow me to develop entirely new methods and techniques to study why we often behave so inconsistently and how the brain is responsible for these inconsistencies.
The research leading up to this this prize has been very much a group effort, so I would like to thank my lab members, my collaborators, and my mentors for their continuous support."