Public Engagement Team
Support team
Our Centre is supported by a Public Engagement team who are committed to embedding a culture of public engagement within the Centre.
We see this as researchers actively taking part in a process of planning and delivering public engagement activities that have clear benefits to both researchers and their relevant publics, and will go on to influence the research produced within the Centre. This benefit may be in form of directly influencing the research, or may be more indirect through an increase in the professional skills of the researchers involved.
Our team encourages and develops the skills of the researchers (incl. PhD and Masters Students) and staff in the Centre through training, meetings and inclusion in a diversity of engagement platforms. Our grant scheme aims to further develop engagement skills from mobilising to pioneering their own engagement practice.
We are supportive and open to the staff within the Centre and those associated, forming long-lasting relationships with community partners with the aim to enhance our engagement practice and share learning. Through this we endeavour to embed public engagement within the mission of the Centre and the research conducted within.
---
Team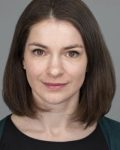 Joanne Thomas
Public Engagement Manager
Sian Rose
Communications and Engagement Officer