Elisa van der Plas
Elisa is a PhD student within the Centre's Metacognition team, aiming to understand how people recognise what they themselves and others around them want, and how this understanding helps people share knowledge.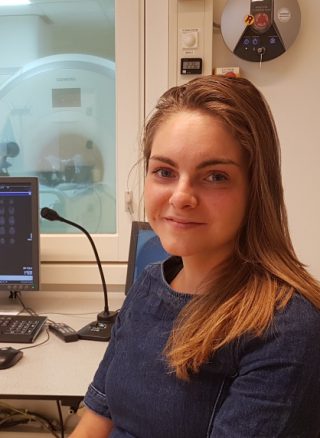 Elisa grew up near Alkmaar, a city in the north of the Netherlands. She has recently been part of the Centre's Dear World Project, a processed focussed public engagement project pairing neuroscientists with artists to explore mental health, its diagnoses and associated labels. Following this she was nominated for the 'Rising Star Award' at the Centre's Public Engagement Awards. She tells us about her journey into neuroscience and her current work below:
What lead you to your current position at the Wellcome Centre for Human Neuroimaging?
I have always felt a need to understand why people sometimes make decisions that have harmful consequences to themselves and their loved ones. Whilst completing my Bachelor of Psychobiology at the University of Amsterdam I took part in an international exchange programme. By volunteering at a drug rehabilitation centre in Central America I became fascinated by the idea that people's decisions could simply be explained by repeating actions that had previously led to strong rewards and avoiding actions that had previously resulted in pain. The idea I had back then was simple: by retraining those 'maladaptive' associations we could help people overcome their addiction. However, I realised that my previous ideas were too simple, the mind is not a mere 'slave' to associations but has the capacity to reflect upon itself and change its course of action.
What does your work aim to understand?
I investigate how the mind can reflect upon itself, for example, in understanding which desires you have and 'want to have', and which cravings you have but would rather not have. My work aims to understand how people recognize what they themselves and others around them want, and how this understanding helps people share knowledge. I work as part of the Wellcome Trust funded Mental Health & Justice project, an interdisciplinary collaboration aimed at supporting peoples' mental capacity to make important life decisions.
We share and access each other's knowledge through communication, therefore, our collective pool of knowledge is intrinsically restricted to the extent that we can correctly express what we know. I think that more research in introspection and outrospection is needed to better understand how information can be best shared within individuals, especially in these times where a lot of information is available online.
Which aspect of your work are you most proud of?
I have recently published a paper that explains in an accessible way why self-reflection benefits decision-making, and in particular, the ability to access knowledge via social interaction. What I like about this paper is that it combines the fields of law, decision neuroscience and perceptual neuroscience to provide a comprehensive view of what we currently think decision-making capacity consists of, and whether present-day legal capacity assessment corresponds with state-of-the-art research in the field.
Do you have any advice for young people hoping to join the neuroscience field or embarking on a career in science?
It is not always easy and there is a lot of pressure on young scientists, but I think it's invaluable to be true to yourself and your readers. Be aware of your own doubts and test them, do not follow the crowd into pretending to be more confident than you actually are, that will not help anyone in the long run.
Last but not least, what is a fact people may not know about you?
I was accepted to an art academy in The Netherlands but chose to study neuroscience instead because I thought that there was a stronger need for facts – rather than subjective interpretations of facts – in the world.
Elisa recently wrote an article reflecting on a review she co-authored, you can read that here.
You can read more about the work carried out by the Metacognition Team here.