Metacognition
Research team
Our goal is to understand the human brain's capacity for metacognition and self awareness, and how these processes are altered in disorders of mental health.
Metacognition refers to the ability to reflect on, monitor and control other cognitive processes. Metacognitive sensitivity is the extent to which our self-estimates of performance track objective success in a variety of domains including perception, decision-making and memory.
Distortions in metacognitive sensitivity may underpin the lack of insight that is common in a range of neurological and psychiatric disorders. The Metacognition Group combines computational models with behavioural and cognitive neuroscience approaches to deconstruct metacognition into its component parts, such as how we recognise our errors and develop beliefs about our skills and abilities. We have a special interest in the prefrontal cortex and how its functional anatomy supports self-awareness.
Ongoing studies
Revealing the neural foundations of metacognition
We have designed new psychophysical paradigms to distill processes supporting metacognitive confidence from lower-level (e.g. perceptual) uncertainty. In conjunction with fMRI, this has led to us identifying distinct neural contributions to metacognition in prefrontal subregions (Bang & Fleming, 2018; Fleming et al., 2018) and has revealed that such signals generalise across unrelated tasks, indicating a domain-general resource (Morales et al., 2018).
Identifying relationships between metacognition and mental health
We have identified systematic links between metacognition and mental health in large-scale general population samples (Rouault et al., 2018), and developed web-based tools to train and improve domain-general metacognitive sensitivity (Carpenter et al., 2019). These findings have led to ongoing clinical collaborations that are characterising changes in metacognition in depression (Zurich) and dementia (London). To facilitate analysis of datasets from brief clinical assessments, we have developed hierarchical Bayesian models of metacognitive sensitivity (Fleming, 2017).
Testing computational models of self-awareness
We have developed computational (generative) models of metacognitive judgments that seek to account for lack of insight (Fleming & Daw, 2017) and the relationship between higher-order cognition and conscious awareness (Fleming, 2019). These models provide predictions for neural responses at different levels of a hierarchical model of metacognition that we are testing using functional imaging.
---
Principal Investigator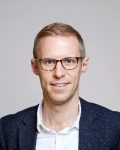 Stephen Fleming
---
Team
---
Research areas