Deafness, Cognition and Language
Research team
We use deafness as a model system to examine how altered sensory and language experience influences the development of language, cognition and the brain. Research with those born profoundly deaf offers unique insights into the limits of neural plasticity and the cognitive and neurobiological conditions under which language develops.
We use both behavioural and neuroimaging approaches to further understand how we process visual forms of communication: sign language, reading, visual speech (lip-reading) and gesture. For example, we have shown that the brain engages very similar networks to process signed and spoken language. This suggests that the brain treats language as language, regardless of whether it comes in via the eyes or the ears.
We are also interested in plasticity: what is the function of 'auditory' cortices in superior temporal cortices in those born profoundly deaf? We have shown extensive activation in response to visual input in these regions in deaf participants. Current studies are examining the functional relevance of this activation. In addition to informing our basic understanding of brain development and the neurobiology of language, aspects of our research will also ultimately inform educational intervention strategies for those born profoundly deaf.
---
Principal Investigator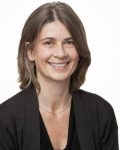 Mairéad MacSweeney
---
Research areas