Personality Disorders
Research team
We investigate the neural correlates and computational mechanisms of social processes that are fundamental for understanding and treating personality disorders.
In the framework of computational psychiatry, we are searching for biomarkers or endophenotypes specific to Borderline Personality Disorder (BPD) and Antisocial Personality Disorder (ASPD). Our goal is to offer a radically new route to nosology and understanding, and ultimately to the design and implementation of more effective therapies.
BPD and ASPD represent a common but often extremely debilitating form of severe psychopathology – for both the individual and society. Both groups have a tendency for impulsivity that might explain difficulties in interpersonal relationships with ASPD showing more exploitative and callous behaviour and a pervasive pattern of disregard for, and violation of, the rights of others. ASPD is also termed psychopathy, sociopathy or dyssocial personality and can have a range of presentations. It may be possible to discriminate between an impulsive, high-affect and disinhibited group on the one hand (that might benefit from psychological therapy) and a callous, unemotional group on the other (more overlapping with a psychopathy classification).
Ongoing studies
fMRI
Using a multi-task fMRI paradigm, with hundreds of participants (healthy, BPD, ASPD), we have measured a range of behavioural and brain responses during two person interactions (personperson or person-computer agent) that approximate to the interpersonal difficulties experienced by BPD and ASPD. The tasks are designed to tap the mechanisms underlying second order belief reasoning, strategic deception, trust, and impulsivity. We are using the data to understand i) how several variables relate to one another within one participant and ii) how the vectors vary across healthy populations and those with emerging or manifest personality disorders.
Electrochemistry
The same social exchange tasks are being used to pioneer the development of a new method for electrochemical recordings of the neuromodulators dopamine, serotonin, and norepinephrine – all key players in depression, psychosis, attention-deficit disorder, Parkinson's disease and more. This new development couples modern computational methods to traditional electrochemical procedures, and has already provided the first ever sub-second recordings of dopamine and serotonin in human subjects during active cognition. The methods promise to transform standard electrodes used in neural recordings into sources of ultra-fast neurochemistry crucial for healthy cognition. The findings emerging from its application also promise new insights into diseases that impact the brain's dopamine, serotonin, and norepinephrine systems (Parkinson's disease, schizophrenia, ADHD, anxiety disorder, addiction, psychosis).
---
Principal Investigator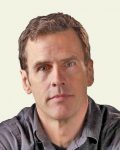 Read Montague
---
Research areas